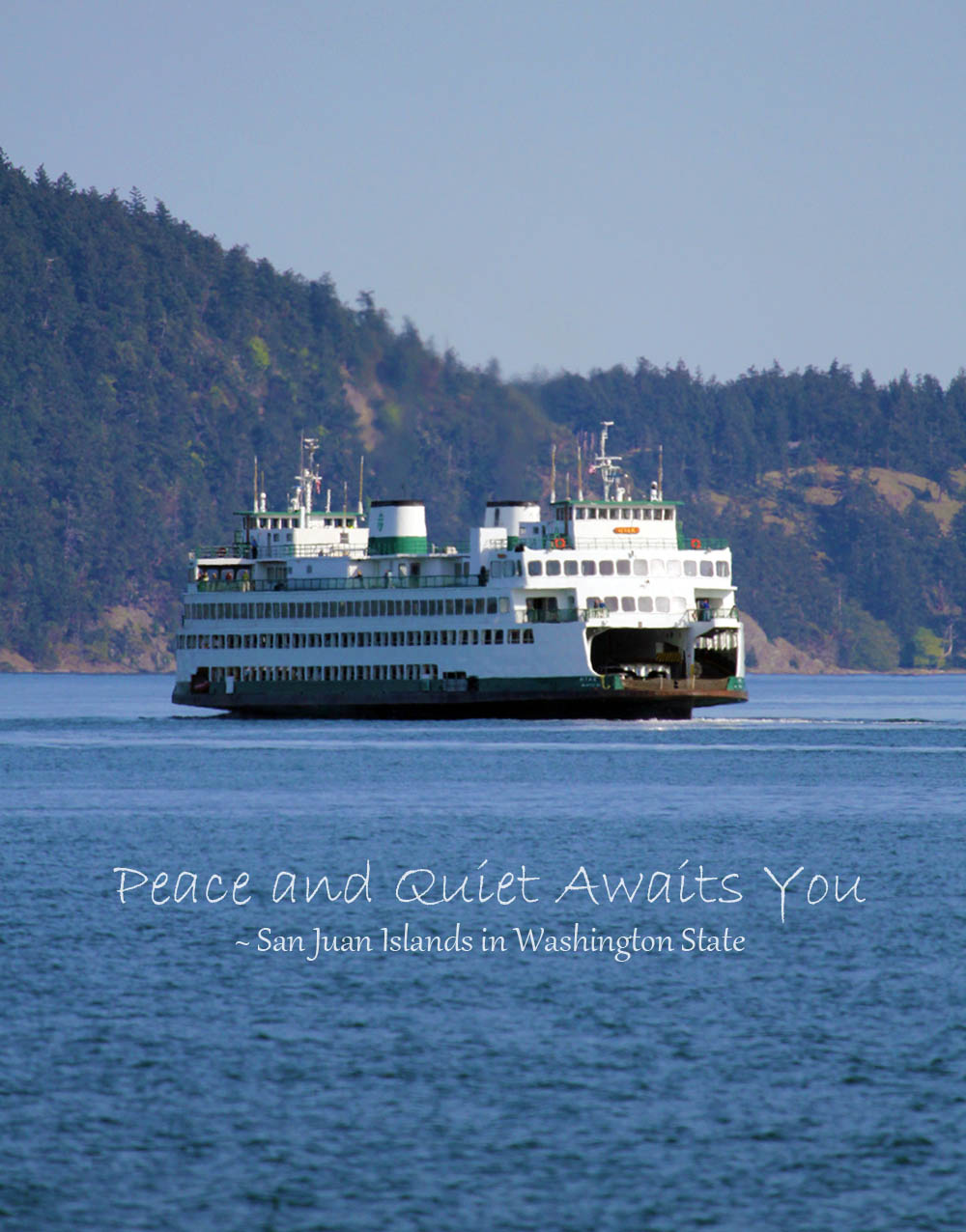 When you depart on a ferry from the Anacortes ferry landing and head towards the San Juan Islands, you are being transported into another place and time.
A place of uttermost peace and welcoming quiet. 
A place of pure island paradise and absolute relaxation for both the body and soul. 
These are the things I crave after spending time on the mainland in busy corporate America.  Traffic lights, people in a hurry and always someone not being so nice.
Not here. 
I should probably also tell you about the most incredible places to dine here on the islands, specifically Orcas Island.
For starters I will tell you about the New Leaf Cafe.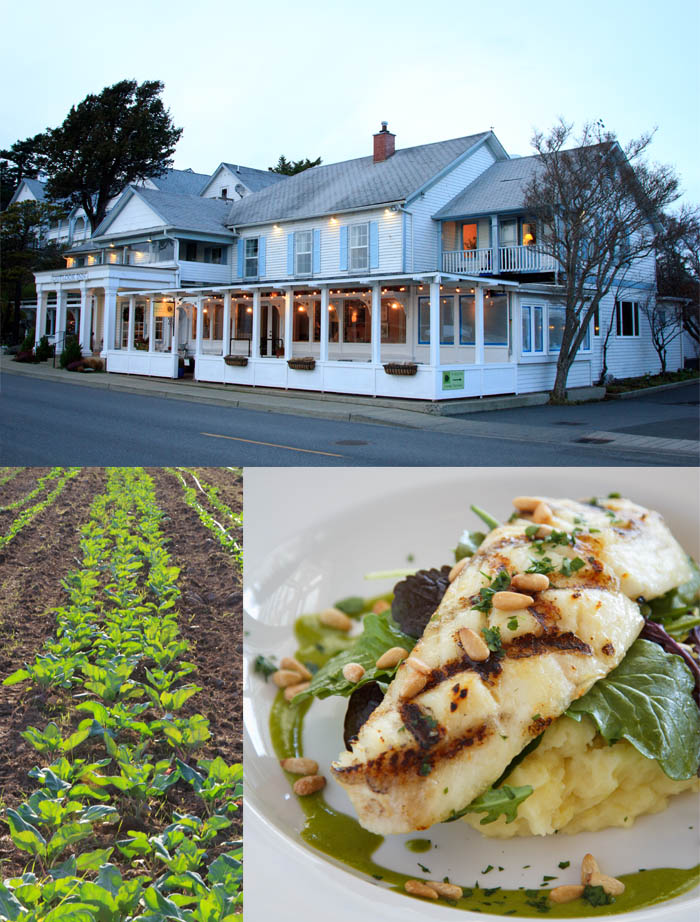 Located within the historic Outlook Inn in the quaint and charming town of Eastsound, you will find a menu based on the local farms' seasonal ingredients readily available thanks to the perfect growing environment of the islands.  Chef Steve Debaste whips up amazing dishes using these ingredients and I can tell you first hand, the food here is incredible.  In the back of the property is a quite large herb garden where Chef Steve can readily help himself to chives, dill, parsley, etc. 
If you are a regular reader of J5MM you will recall our off season visit to Orcas Island where we spent our time at the Outlook Inn.  During our stay we enjoyed sweeping views and pastel sunsets from our room.  Accommodations were nothing short of perfect and the feeling that we had while staying there was of complete relaxation.
A most certain four season destination, the San Juan Islands are always sure to please and staying at the Outlook Inn will only add to your enjoyment.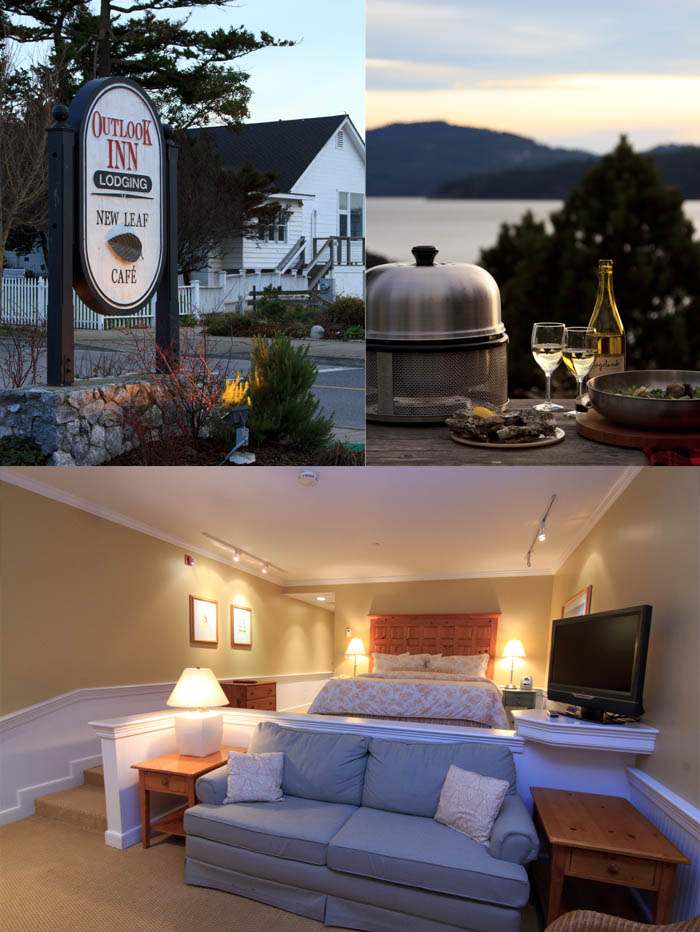 ~A Seafood Medley prepared on the grounds of the Outlook Inn and our luxurious room during our visit
Here on Orcas Island you will find many farms and I had the honor to be able to tour one of them.  I had a writing assignment for Williams-Sonoma with a "Farm to Fork," angle and the San Juan Islands were the perfect place for me to experience that.
My Maple Rock Farm tour headed up by Farmer John Steward was really almost a life changing experience for me.  Sure you hear all about the good that comes from these farms but to be able to be on the soil and taste the organic greens that were growing right there, right out of the ground made for an experience that I am finding rather hard to put into words.   
Maple Rock Farm offers up all of its bounties to the local restaurants, markets and to the schools of Orcas Island (stay tuned for this story -- I am very excited to meet the children of these schools to learn how much they enjoy their healthy lunches) and being able to bring the fresh local produce grown by Farmer John back to my Airstream's kitchen to be used as the star in a simple recipe is always such a rewarding experience.
Combine the growing talents John Steward possess with the talents of Chef Steve Debaste and you have yourself an incredible Farm to Fork experience here on Orcas Island.  Being able to tour these fields with John and then sit down to an incredible dinner prepared by Chef Debaste was one of the most beautiful experiences I have had.
Thank you soooo much Farmer John and Chef Debaste.  Honestly, from the bottom of my heart thank you :)  Also thank you to Jon Kobayashi for making everything come together.  Jon heads up and makes sure everything runs smoothly at both the Outlook Inn and the New Leaf Cafe.  Meeting Jon and speaking with him about so many things including our commonality of growing up in Hawaii was wonderful.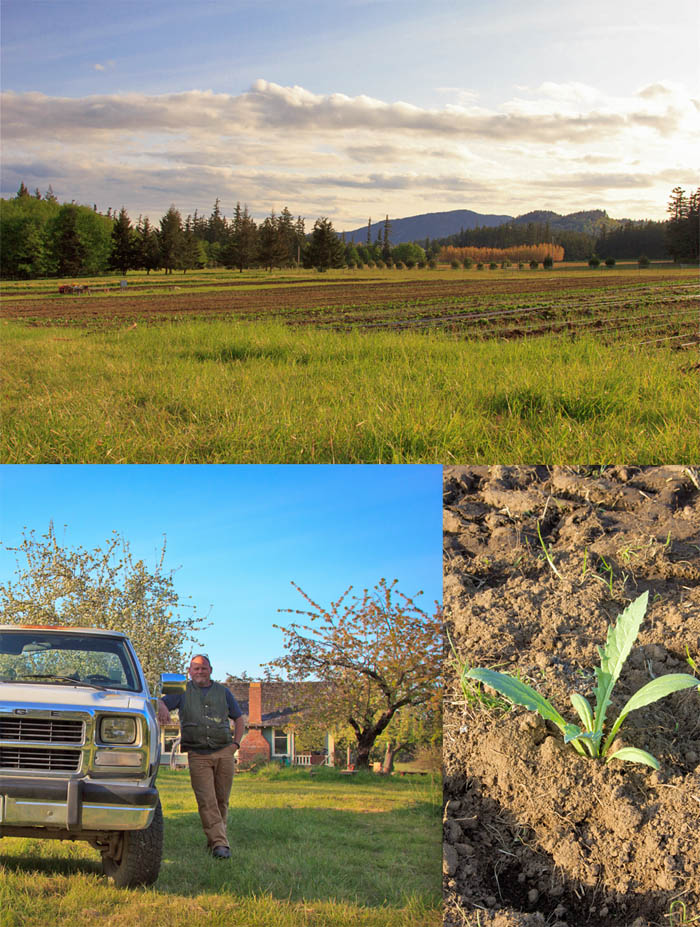 ~Farmer John and one of his fields on Orcas Island

About Farmer John:
After selling produce at the Orcas Island Farmers market over a decade ago, Farmer John realized his true passion for growing organic and beautiful fruits and vegetables was here to stay. He became inspired to start Maple Rock Farm, where he and his farming team enjoy growing and selling at the farmers' market while mingling with the local folk here. He has cooked for the children of the Orcas Island with the "Farm to Cafeteria" program as one of their guest "Celebrity Chefs" and provides his goods to many of the local restaurants, markets and schools. You can find Farmer John every Saturday at the outdoor Orcas Island Farmers' Market located in the quaint and beautiful town of Eastsound. Learn more about Maple Rock Farm.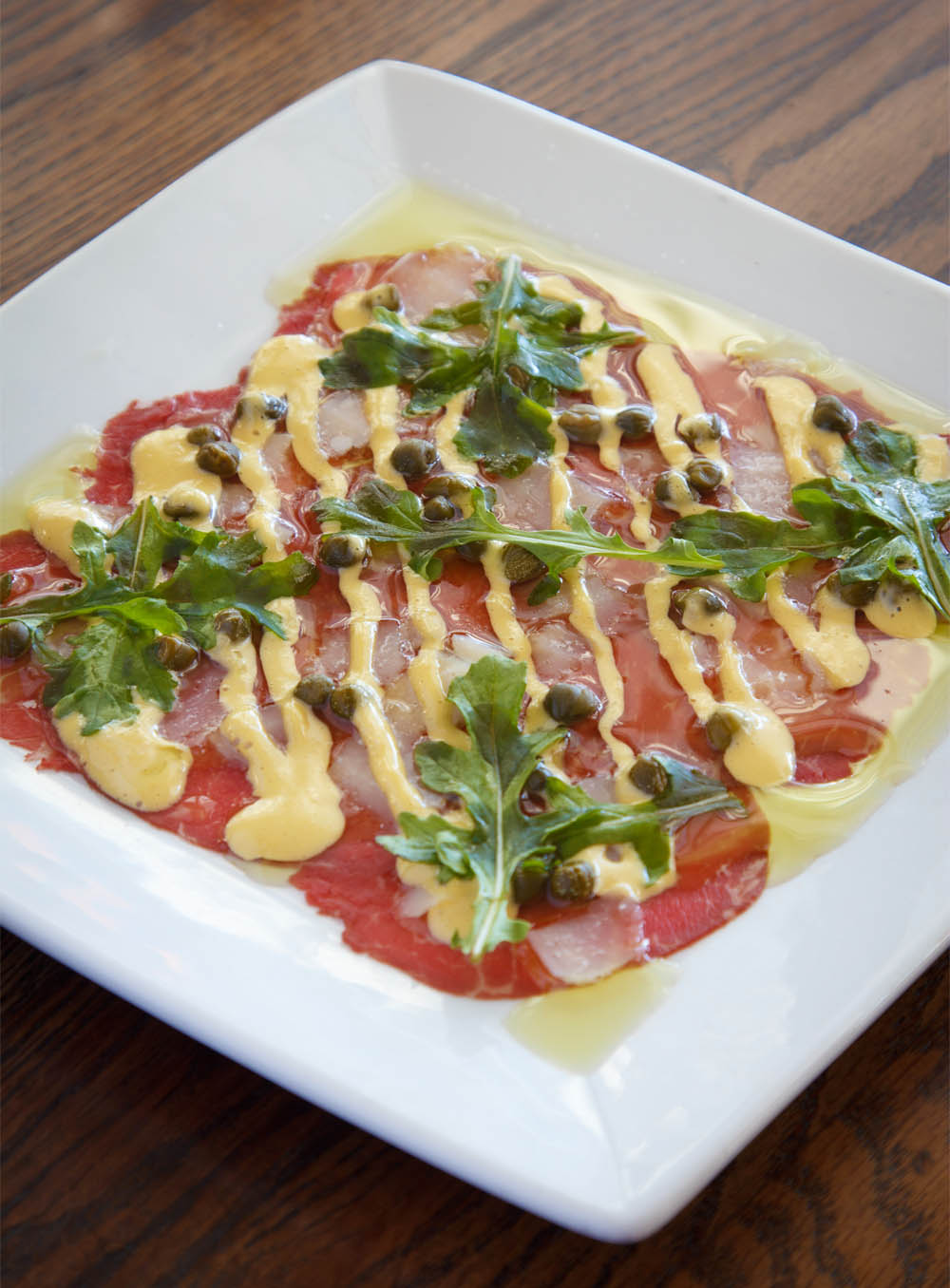 ~Wagyu Carpaccio with Maple Rock Farm Arugula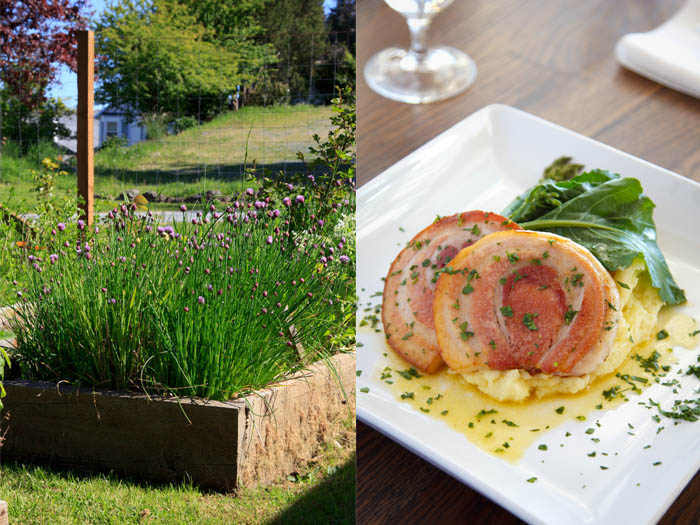 ~ Porchetta with Maple Rock Farm Greens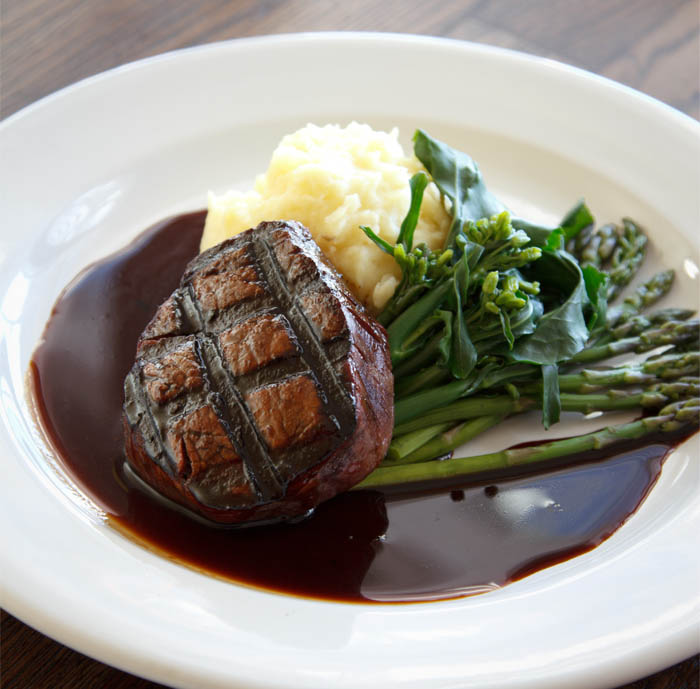 ~ Tender Beef Fillet with Maple Rock Farm Asparagus and Greens
Probably the most cutest pigs I have ever laid eyes on belong to Geddes of Inn at Ship Bay.  John was so happy to show them to me as they reside on one of his fields.  So cute they were (and so very pettable!).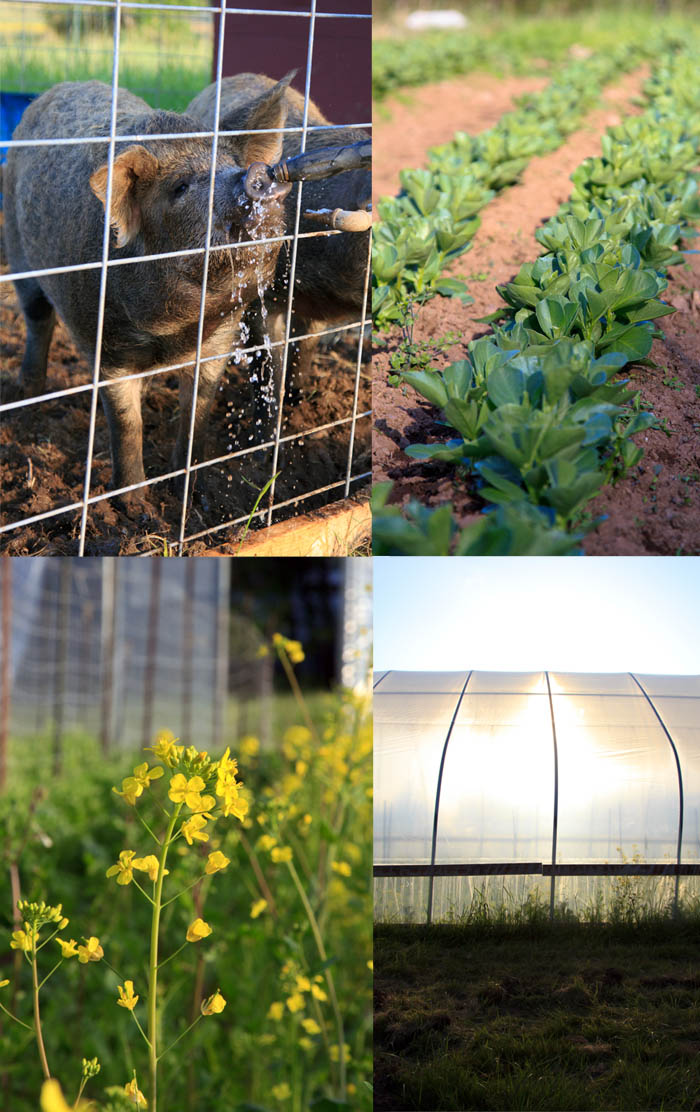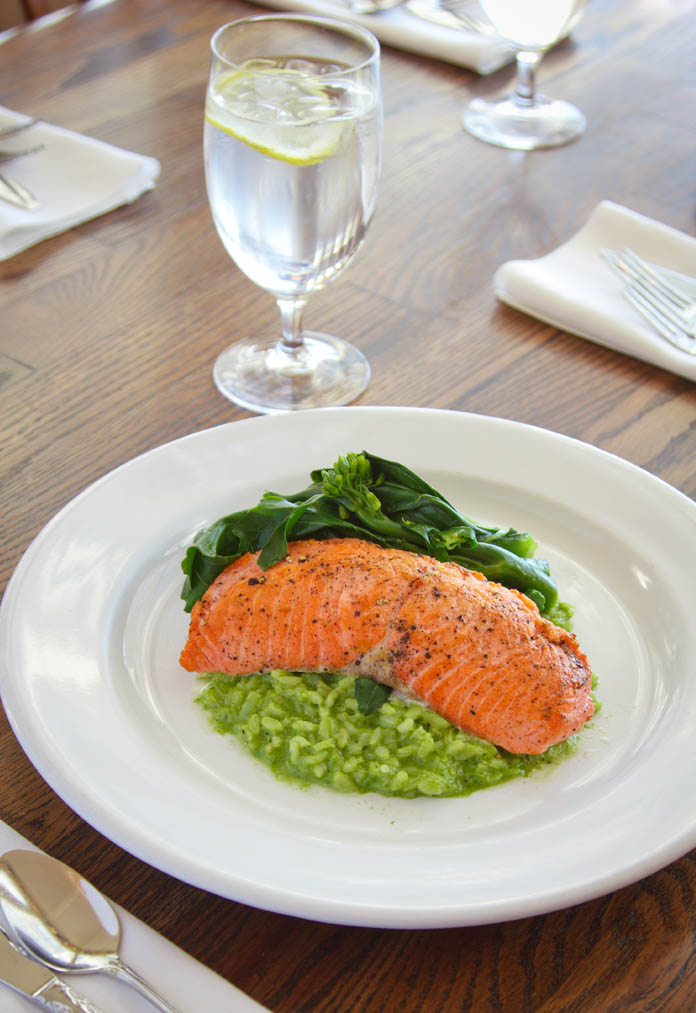 ~ Pan Seared Fresh Salmon, Garden Risotto with Bok Choy and Kale tips from Maple Rock Farm. The Risotto was made with green herbs from the Outlook Inn garden.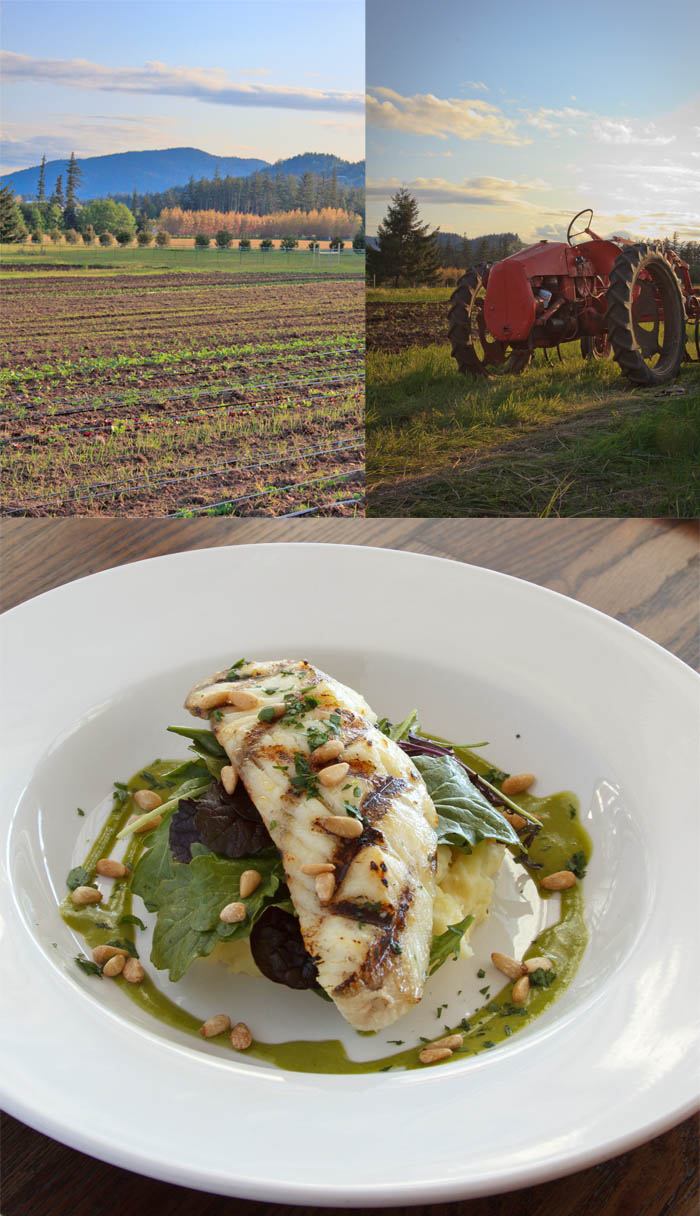 ~ San Juan Islands fresh Halibut with Maple Rock Farm Salad Greens and Whipped Potatoes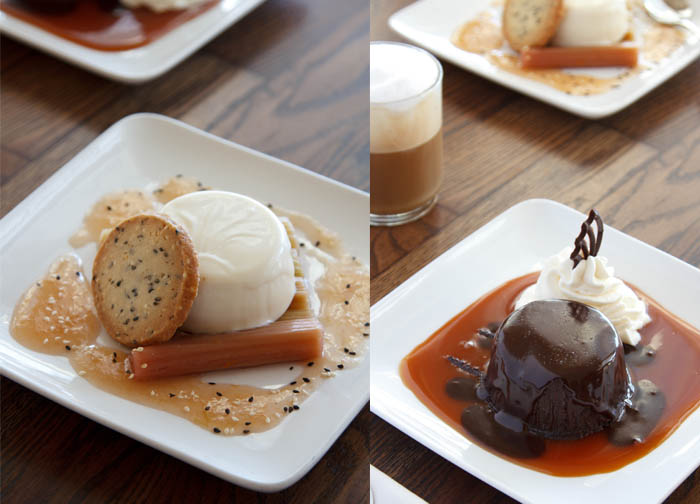 ~ Green Tea Panna cotta with Star anise poached local rhubarb and sesame shortbread cookie
~ Flourless Chocolate torte with house made caramel, chocolate ganache and a touch of sea salt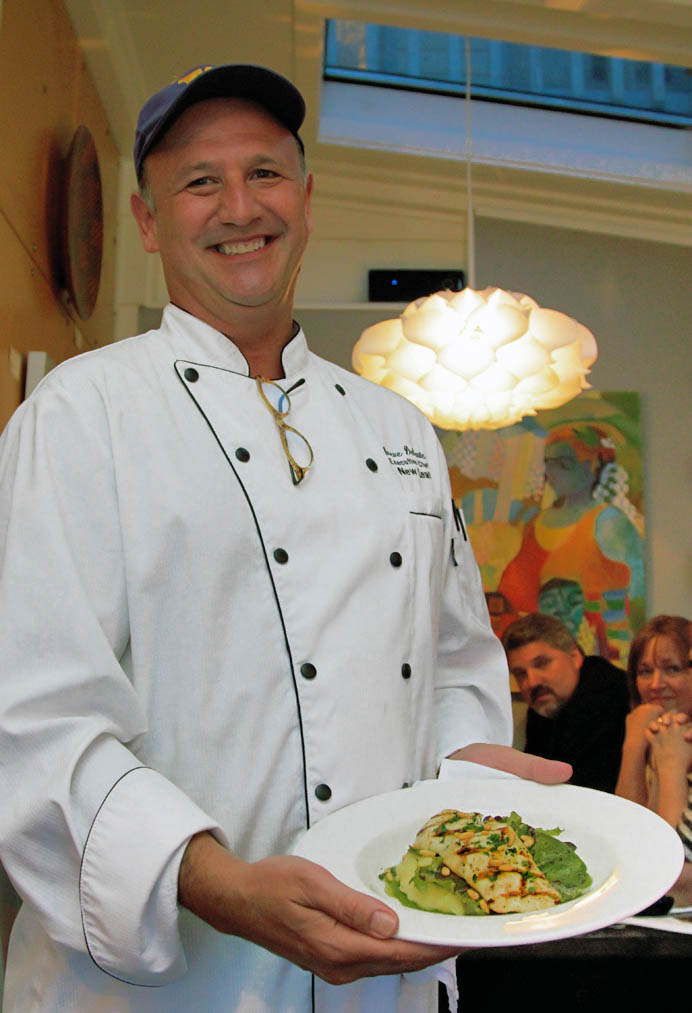 About Chef Steve Debaste:
Spending almost every summer and holiday as a youngster in France with his parents, Chef Debaste holds fond memories revolving around the love of good food — from the Loire Valley in central France to La Rochelle along the Atlantic Coast and then to Paris.
His mother, a gourmet cook and nurse at the University of Washington's Medical Department, held gourmet cooking classes in her home for fellow colleagues and doctors, with Steve always assisting. She also participated in several fundraising charity events where she prepared main entrees side-by-side world-renowned chef Julia Child. Steve was, again, right there by their sides.
"Being able to meet Julia Child was an incredible experience for me," he says. "We made paella one evening for over 300 people, and it was amazing. After the event my mother was featured in the food section of the Seattle Times on the front page. I will never forget the experience."
As for knowing what he wanted to be when he grew up? "I knew at a very early age that I would be in the restaurant business." Chef Debaste says. "With all of my experience in my home kitchen or abroad in France with my parents, I had no problem at the age of eight handling a knife and sauté pan."
Chef Debaste's rich cultural background and culinary history clearly shows itself in the dishes he prepares. What a delight it was for me to be able to meet him and to be able to share his recipe.
For the most delicious and tender Halibut recipe created by Chef Debaste, please click here.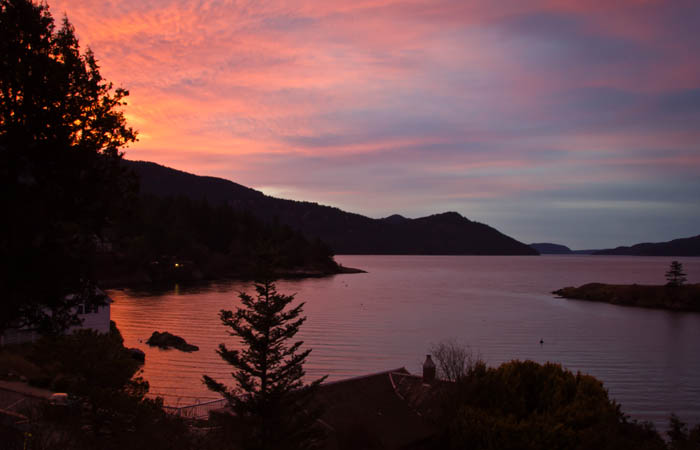 ~ a room with a view at the Outlook Inn, Orcas Island - Washington State
~ My beloved Airstream driving past the front of the Outlook Inn on her way to West Beach Resort